E-Z-ON Adjustable 203 Vest
The Push Button Adjustable Vest with adjustable shoulders
Featuring…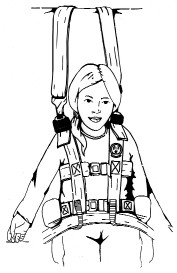 Mini-Push Buttons adjust with fast snap on and easy release.
Adjustable shoulder straps can lengthen and shorten the vest for a secure fit. The hip strap must remain low around the lap.
Bar slides keep busy fingers from undoing shoulder straps. Shoulder straps back-thread and lock.
Loops designed only for vehicle belt or wheelchair belt installation. A lap/shoulder belt can be used with a locking clip and threaded through these.


Vest crotch straps are not used when using a booster.
Crotch straps are threaded correctly to lock.
Model #203
XS-S Vests have sewn crotch straps that meet NHTSA guidelines
MEETS FMVSS 213
Must use with E-Z-ON's vehicle tether m    ount, floor mount, or wheel chair mount
Fits ages 2 through adult 20-65 lbs.
Accessories are available
Replace after crash