E-Z-ON Adjustable 103Z Vest
The Complete Adjustable Vest that grows with the passenger!
Featuring…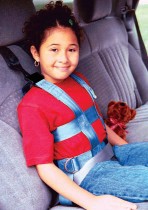 Enjoy a safe and comfortable ride! Sewn-zipper panel offers 3 zipper sizes to adjust chest and waist straps. Perfect for growth spurts and bulky clothing. Made for children and adults 20-168lbs.
Adjustable shoulder straps pull easily to lengthen and shorten the vest for a secure fit. The hip strap must remain low around the lap.
Bar slides keep busy fingers from undoing shoulder straps. Shoulder straps back-thread and lock.
Loops are designed just for vehicle belt or wheelchair belt installation to secure the passenger. A lap/shoulder belt can be used with a locking clip to lock and thread the lap portion through vest belt loops.
Quick and E-Z!
E-Z-ON Vests can be comfortably fitted before getting in the vehicle.
No-more struggling in the small-space with restraints!
Simple and secure mounting straps make attachments to the vest a snap, for family vehicles and wheelchairs.
Wash with mild soap and hang dry.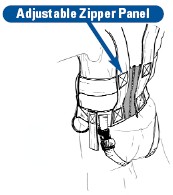 Model #103Z
XXS-S has sewn crotch straps that meet NHTSA guidelines
Portable or sewn crotch straps are available to order sizes M-LG
MEETS FMVSS 213
Must use with E-Z-ON's vehicle tether mount, floor mount, or wheel chair mount
Fits ages 2 through adult 20-168 lbs.
Accessories are available
Replace after crash
U.S. Pat. #5,733,014