E-Z-ON 86Y Universal Harness
Lap belts alone are not enough!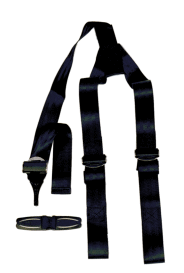 Millions of family vehicles are equipped with unsafe lap-only rear seat belts … yet retrofit shoulder restraints are unavailable or extremely expensive.
With E-Z-ON's UNIVERSAL HARNESS, your back seat passengers will enjoy the same level of protection as airline pilots and race car drivers.
FMVSS Tested
Costs hundreds of dollars less than dealer retrofits
Easy to install and use
Made in the USA
Tilt-lock adjusters make the harness easy to adjust to any height
Use 66-168 lbs. in passengers cars and trucks.
Factory installed tether anchors can be used 66-80 lbs (unless other wise directed by the owner's manual). For 80-168 lbs. the E-Z-ON tether kit must be installed.

Many vehicles have different factory installed anchor locations. Check your owner's manual for anchor location and weight limits.
Chest clip helps keep the harness straps in the correct position. Perfect for smaller passengers. A lap/shoulder belt can also be used with a locking clip with the 86Y harness.
When installing the 86 Y Harness, check your manual before installing. A 45 degree angle is the most appropriate for a tether anchor installation. Tilt locks lift to help shorten and lengthen harness for the correct fit.

Read your owners manual for pre-drilled anchor points, so you can install the E-Z-ON 86Y tether kit for your harness.
86 Y tether kit includes:
7/16″ bolt
2-3/8″ washer
lock washer
tether bracket (swivel)
nut
Patent Pending