E-Z-ON 101 Push Button Vest
The Zipper Non-Adjustable Vest

Featuring…
Loops are designed just for using a vehicle belt with a Tether Mount or wheelchair belt installation to secure the passenger. A lap/sh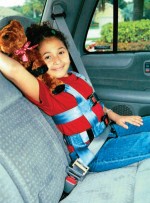 oulder belt can be used with a locking clip to lock and secure the lap through the vest belt loops.
D-rings make tethering a snap when using the E-Z-ON Floor Mount or Tether Mount in vehicles.

Crotch Straps come standard on mini-push button xs-small vests, meeting NHTSA requirements for FMVSS213.
Portable crotch straps or sewn in straps are also available for larger sizes when ordering.

Children will find comfort in their E-Z-ON vest.
You will find the peace of mind that comes only when you know that your child is safe. Push Button closures offer a quick snap-on and simple release. E-Z to adjust chest and waist straps for a secure fit. The Mini-Push button (XS-S) vests are ideal for smaller children 20-65 lbs. Standard push button vests are designed for larger children and adults up to 168 lbs.
Model #101 Push Button
XS-S Vests have sewn crotch straps that meet NHTSA guidelines
Meets FMVSS 213
Must use with E-Z-ON's vehicle tether mount, floor mount, or wheel chair mount
Fits ages 2 and up 20-65 lbs.
S-LG up to 168 lbs.
Accessories are available
Replace after crash