E-Z-ON 1086 CamHarness™ for School Buses

Features…
This design combines the safety of a full harness with the convenience of a portable restraint that children and school bus drivers love!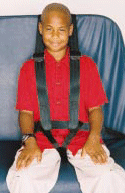 Safely transports passengers 30-80 lbs. on school bus seats.
Tested and certified to meet NHTSA FMVSS213 standards
E-Z-ON CamHarness helps school buses transport at full capacity, fitting 3 passengers to a seat!

No hardware installation necessary.
The CamHarness secures around a bus seat equipped with standard lap-belts. The Lap-belt threads through the loops on the CamHarness to secure the passenger.
A booster seat with the 1086 eliminates the need for crotch straps according to NHTSA guidelines.
Chest clip included, perfect for smaller passengers.

Tilt lock adjusters makes it easy to fit any size.
Passengers must use existing crotch straps to meet NHTSA guidelines.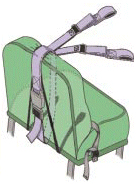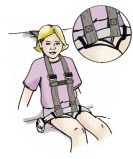 NHTSA recommends that passengers seated directly behind occupants in CamHarnesses be restrained with a seat belt or other restraint or the seat be unoccupied.
Patent Pending