E-Z-ON Floor Mount for School Buses

The E-Z-ON Vest Must Be Used
This E-Z-ON Floor Mount is the perfect design that safely restrains children with the E-Z-ON Vest in school buses.
The E-Z-ON Floor Mount should be used for passengers with emotional or behavioral disorders who need additional restraint.
Children who unbuckle their car seats or seat belts can endanger themselves and distract the bus driver.
The E-Z-ON Floor Mount used with the E-Z-ONVest creates a safe and secure restraint that exceeds a typical seat belt or 5 pt. car seat.

lift up on tilt-lock to adjust tether

7/16″ bolt
2″ washer
tether bracket (swivel)
nut
2 sets come with the E-Z-ONFloor Mount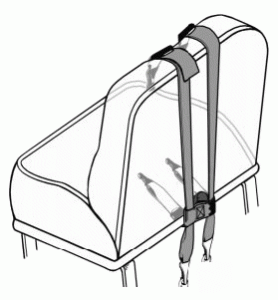 This product must be used on school bus seats that let the snap hook pass through the seat and attach to the passenger.
Use only with E-Z-ON Vests.
Hardware kit included. E-Z-ON Floor Mount secures passengers 20-168 lbs. safely without the need of a vehicle seat belt.
Slim tilt-locks makes adjustments easy for all connecting straps.