The Push Button Adjustable Vest with adjustable shoulders
Featuring…
Mini-Push Buttons adjust with fast connect and easy release.
Bar slides keep busy fingers from adjusting the shoulder straps. Shoulder straps back-thread and lock.
Adjustable shoulder straps can lengthen and shorten the vest for a secure fit. The hip strap must remain low around the lap.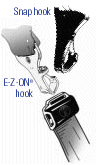 Hooks attach to metal slots on the adjustable 203 vest at the shoulder.
Crotch straps must be threaded correctly to lock.
Model #203
XS-S Vests have sewn crotch straps that meet NHTSA guidelines
MEETS FMVSS 213
Must use with E-Z-ON's seat mount, tether mount, floor mount, or wheel chair mount
Fits ages 2 through adult 20-65 lbs.
Accessories are available
Replace after crash
U.S. Pat. #4,226,474